Lifetrenz - The Technology Advantage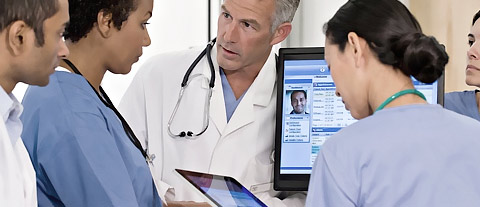 The EHR Technology Framework of Lifetrenz is built on Open Source Technologies incorporating features like Scalability, Exceptional all round security and minimal set-up and go-live requirements blending best of functionality with User-friendliness. The EHR Product are completely engineered in house by Lifetrenz, using our Domain Expertise, and provides up-to-date Technology to Healthcare Organisations and are backed by technology driven integrated, real-time dynamic Customer Support. The available technology in the market today, is mostly on proprietary Operating Systems and use client-server technology. There is a growing need to move towards Open Source and Cloud technologies to optimize the investment value. During the next 2-5 years, the market is expected to become more oriented towards standards based, mobile devices enabled and fully integrated solutions developed on Cloud technology platforms.

Lifetrenz is high on features & functionality but with a simple and very user friendly interface that allows care givers to spend quality time with patients. Getting on the Lifetrenz Platform will help differentiate services and help build brand and image amongst patients. Some of the unique advantages that Lifetrenz brings to Healthcare Providers are: Strong knowledge base with clinical reference databases for physicians irrespective of their specialty.

Designed keeping Patient at the center of care which enhances patient safety and reduces medical errors - Enhanced clinical experience & improved patient satisfaction
Build patients' health record compliant to International standards.
Saves time, improves outcomes and reduces cost.
Enhances efficiency & effectiveness of operations.
Reduces cost of healthcare delivery - Results in savings for the Organisation.
Helps deliver quality Continuity of Care, resulting in higher patient loyalty.
---
Lifetrenz is completely built on Open Source technologies. This choice of technologies give it the following technology advantages:
Lower cost


Highly stable, secure and scalable


Constantly evolving cutting edge technology


Ideally suited to leverage the cloud delivered SAAS (Software As A Service) model


The EHR platform has a multi-tier architecture with abstracted data, logic, services and UI layers. This enables the following:
Technology flexibility - There is complete flexibility in the choice of technologies for any of the layers. As newer technologies become available for any tier, that alone can be upgraded/changed without impacting the overall solution delivery.
Multiple level security - Each of the tiers communicate using open standards protocol such as SQL, HTTPs, web services etc. Security can be enforced at each of the layers independently, thus enhancing the overall solution security.
Scalability - Since each tier is managed independently, scalability can also be managed as required at each level. Further the services at each layer can be federated across multiple machines and/or load shared dynamically as required, without affecting the other layers.
Platform agnosticism - As the UI tier is completely abstracted and communicates on open protocols, multiple platform specific and customer facing applications can be developed as the technology evolves
Smart client UI – Using a "Smart Client" as opposed to a browser interface provides better user experience, performance and lower bandwidth requirements.
---
PREV

NEXT